The Entomology Program conducts plant pest surveys (insects, plant diseases, and nematodes). Plant pest surveys can be conducted by periodic visual surveys, sampling, or regular detection trapping programs. Surveys are conducted to determine if a particular pest exists in an area (example, in a county), and if found, how extensive the infestation is. Surveys are also needed to determine the feasibility of eradication, areas where eradication treatments need to be applied, and areas where quarantine measures need to be applied.

Plant pest survey data is needed in order to facilitate exports. Presence or absence data is important. Plant pests that may hinder or restrict plant and plant product exports should be surveyed. Laboratory diagnosis of the plant pests is crucial. This data is needed to document pest-free areas. Pest management areas will also be gained from survey data. Coordination of a statewide survey is important to the plant industry of Nebraska.

Regionalization provides for the certification of plants and plant products on a regional basis. This regional approach allows for the establishment of pest-free areas.
In 2021, NDA continued to survey for agricultural pests potentially introduced through extensive flooding in 2019 and subsequent supplies shipped to Nebraska from other states to help farmers in need. Some of these states have established populations of invasive species we don't want introduced in the state. Each site consisted of two bucket traps, a plastic delta trap, wing trap, pyramid trap, and visual surveys for select pests. All traps and visual surveys were negative.
Field locations for seed potatoes, tablestock potatoes, and nursery growers who export were sampled from September through November 2021. A total of 27 soil samples were taken from 6 counties across Nebraska. Samples were submitted for analysis to the UNL Plant Pathology Department for the presence of quarantine and export significant nematodes including: potato rot (Ditylenchus destructor); potato cyst (Globodera pallida, G. rostochiensis); soybean cyst nematode (Heterodera glycines); root knot nematodes (Meloidogyne chitwoodi, M. hapla, M. javanica); and other plant parasitic nematode genera. Dr. Tom Powers, UNL nematologist, and his staff conduct morphological and molecular diagnostics of all adult and juvenile nematodes found in the soil samples. The identification of plant parasitic nematodes helps to establish and maintain pest-free areas for the export of plants and plant products. All samples were negative for quarantine pests.
From May-October 2021, NDA conducted 22 visual surveys in 13 counties across Nebraska for presence of ALB. Visual surveys were conducted to determine the presence of ALB at nurseries, campgrounds, state parks, wood recyclers, and other public lands across the state. Asian longhorned beetle was not detected at any location surveyed this year.
During the 2021 season, NDA inspected 40 Christmas trees dealer locations in 13 counties across the state. Inspections occurred in November and December to verify compliance with the federal Gypsy Moth and Pine Shoot beetle quarantines. Inspectors confirm compliance through paperwork review and physical inspection of the trees. No violations were found.
In 2021, NDA continued to survey commercial nursey stock locations. Each site consisted of one bucket trap, paper delta trap, yellow sticky card, and visual surveys for select pests. All traps and visual surveys were negative.
NDA set and monitored 33 traps in 11 counties at high-risk areas, such as state parks and rest areas. Platte county had a positive collection in 2021.
In December 2020, the USDA officially deregulated EAB and has lifted the federal quarantine. NDA has no plans to enact a state quarantine for EAB but will continues to inspect nursery stock for insect and disease problems, including EAB. NDA will continue to work to educate the nursery industry about this potential threat to ash trees in Nebraska, through outreach programs. NDA has developed EAB outreach materials, which continue to be distributed at various industry meetings and conferences, and are also available on the NDA web site.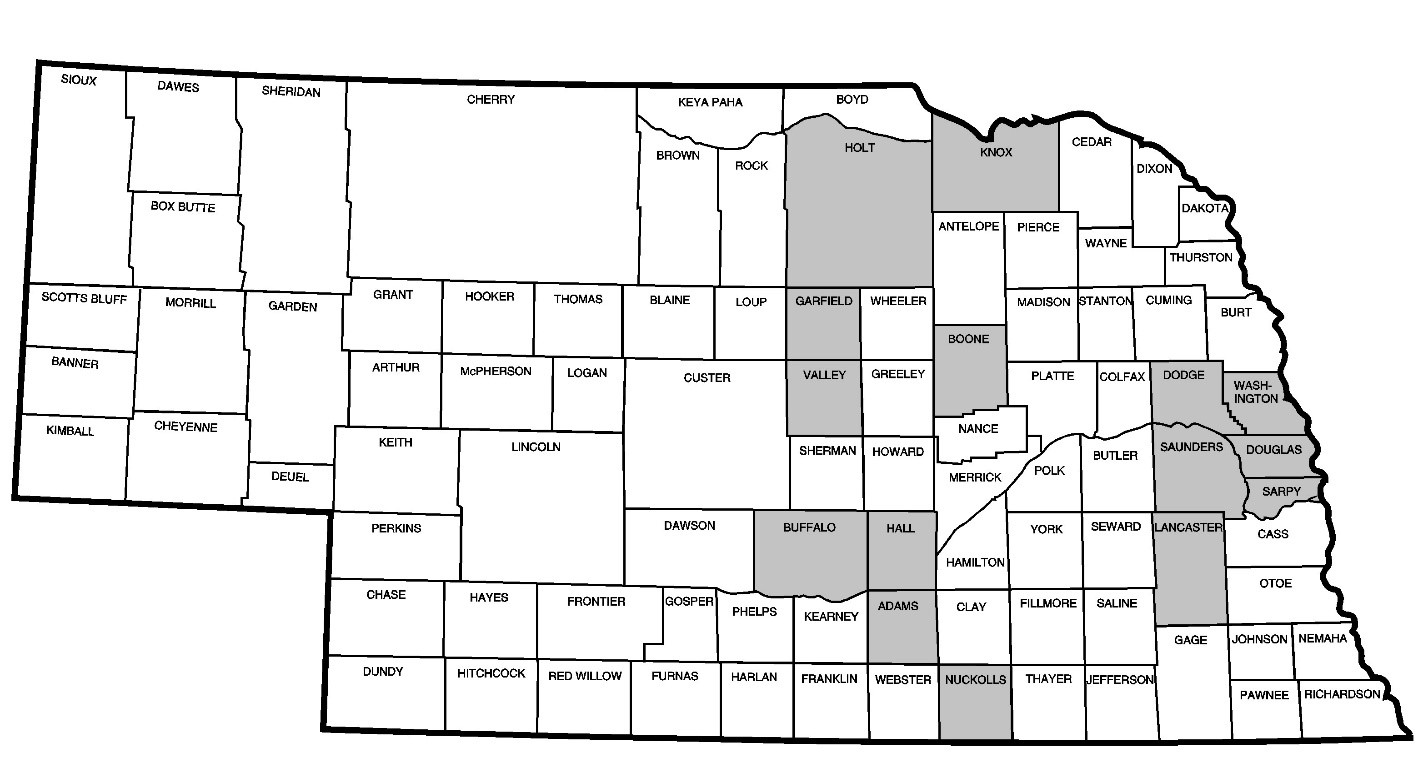 NDA inspectors inspect firewood dealers across the state to confirm compliance with state and federal quarantines that regulate the movement of firewood. A total of 197 firewood dealers in 47 counties were inspected to verify compliance with the Federal Gypsy moth, EAB, and Asian Longhorn Beetle quarantines and the Nebraska Thousand Cankers Disease of Walnut and Nebraska EAB quarantines. While most of the wood was of Nebraska origin, wood was also found to have originated in other states and countries, including Alabama, Georgia, Illinois, Kentucky, Minnesota, Missouri, New York, North Carolina, Virginia, Wisconsin, and Latvia. One Withdrawal-From-Distribution Order was issued for 14 bundles of firewood where origin was unknown. It was later release for sale after proper documentation was provided.
Outreach is also part of this effort. For more information, please see the Education and Outreach Events section.
In 2021, NDA began a grape commodity survey. A total of 15 locations in 12 counties were surveyed. Each site consisted of a plastic delta trap, wing trap, and visual survey for select species. All traps and visual surveys were negative.
A total of 660 detection gypsy moth traps were set in 2021. Traps were set in 43 counties across the state. One trap in Lancaster county and one trap in Washington county were positive. ID confirmed through USDA diagnostic testing.
Firewood surveys are also conducted as part of Nebraska's gypsy moth prevention efforts. For details, see Firewood Dealer Quarantine Compliance Inspections above.
In 2021, a total of 112 JB traps (88 detection and 24 certification traps) were set in 29 counties across the state. Traps are located at airports, state parks, special quarantine compliance areas, and nurseries. Nursery stock distributors in non-infested counties that import balled and burlapped nursery stock are considered high-risk sites and, therefore, trapped individually. The traps were in place April-December 2021. A total of 33 traps were positive, in 15 counties.
In 2021 Nebraska moved to Category 3 status under the Japanese Beetle Harmonization Plan. This change moved Nebraska from Category 2, partially infested, to wholly infested.
Karnal Bunt sampling occurred in July 2021. A total of 26, four-pound wheat samples were pulled in 10 counties, based on the 2021 National Karnal Bunt Survey Protocol. All samples were sent to the National Karnal Bunt Lab in Phoenix, Arizona, for analysis. All samples tested negative for Karnal Bunt.
Federal funding was approved for a Khapra beetle survey in Nebraska for 2020. Fifteen traps were set in 6 counties in December of 2020 with an additional 88 traps set in January 2021 in 9 additional counties. Traps are monitored monthly, for 90 days in the winter of 2021 with survey concluding by the end of April 2021. None traps collected were positive for Khapra beetle. Khapra beetle surveys for 2022 began in December of 2021.
NDA participated in the National PCN survey from September through November 2021. 1,597 – 5-pound soil samples were collected, from 5 counties. Samples were sent to the USDA Idaho Falls PCN laboratory for processing to determine the presence or absence of (Globodera pallida and Globodera rostochiensis). Results were negative for the 2021 survey.
During early spring of 2021, NDA inspectors conducted compliance inspections at 127 seed potato dealer locations in 37 counties. These inspections were to confirm compliance with Nebraska's Columbia Root Knot Quarantine, and the Federal Potato Cyst Nematode quarantine. Two violations were found.
From May-November 2021, NDA conducted 60 visual surveys in 19 counties across Nebraska for SLF and Tree of Heaven (ToH), the preferred host of adult SLF. Visual surveys were conducted to determine the presence of SLF or ToH at nurseries, urban greenspaces, roadways, and forested areas across the state. These surveys will be used to record high-risk areas for introduction and establishment of SLF in Nebraska. A total of 47 of the 60 locations surveyed had ToH present. SLF was not detected at any location surveyed this year.
In 2021, NDA trapped for walnut twig beetle at a total of 9 sites in 9 counties. Each trapping site consisted of three multi-funnel traps in various locations for a total of 29 traps in the state. This survey was very labor intensive. In order to maintain the viability of the sample for accurate ID of the pest, traps were serviced every two weeks. After positive findings of walnut twig beetle in 2019 and 2020, NDA conducted baited branch surveys in Scottsbluff County for trees infected with Geosmithia morbida, the causative agent of Thousand Cankers Disease. There was no activity on the baited branches. There is currently no quarantine or export restrictions in place for this pest, pending the detection of infected trees.