NDA Works to Prevent the Spread of EAB in Nebraska
Nursery Stock Inspections
The Nebraska Department of Agriculture (NDA) continues to inspect nursery stock during Nursery Dealer and Nursery Grower inspections for insect and disease problems, including EAB. Particular attention is given to ash stock to ensure that EAB is not entering the state. NDA Inspectors also check for labeling of place of origin on nursery stock, as required by the Nebraska Plant Protection and Plant Pest Act, to ensure that all Federal and state quarantines are being followed. NDA is working to educate the nursery industry about this potential threat to ash trees in Nebraska through outreach programs.
Firewood Inspections
In addition to inspecting nursery stock, NDA also inspects firewood. Inspectors check for paperwork showing state of origin, and examine wood for evidence of EAB, or other quarantined pests. While much of the firewood sold in Nebraska is of Nebraska origin, a significant amount comes from other states.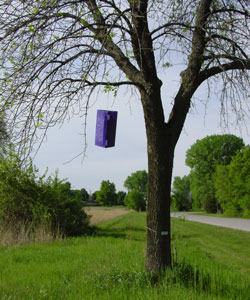 EAB Trapping Survey
In 2018, NDA is again participating in the National EAB Survey. Traps are set at sites where introductions are likely, including interstate rest stops, state parks, and campgrounds. Large purple prism traps were baited and hung approximately 10 – 15 feet high, in ash trees. Traps were set in May and are monitored throughout the summer, before being removed in September.
No EAB was detected in Nebraska during the 2017 survey.
Think you have found EAB in Nebraska?
If you suspect you have found an EAB infestation in Nebraska, please contact the Nebraska Department of Agriculture at 402-471-2351, the Nebraska Forest Service at (402) 472-2944 or your local USDA office at (402) 434-2345.