Nursery Stock Inspections
The Nebraska Department of Agriculture (NDA) continues to inspect nursery stock during Nursery Dealer and Nursery Grower inspections for insect and disease problems, including EAB. Particular attention is given to ash stock to ensure that EAB is not entering the state. NDA Inspectors also check for labeling of place of origin on nursery stock, as required by the Nebraska Plant Protection and Plant Pest Act, to ensure that all Federal and state quarantines are being followed. NDA is working to educate the nursery industry about this potential threat to ash trees in Nebraska through outreach programs.
Firewood Inspections
In addition to inspecting nursery stock, NDA also inspects firewood. Inspectors check for paperwork showing state of origin, and examine wood for evidence of EAB, or other quarantined pests. While much of the firewood sold in Nebraska is of Nebraska origin, a significant amount comes from other states.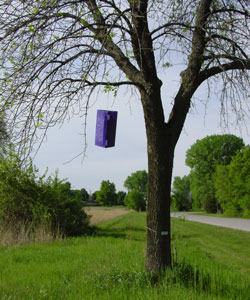 EAB Trapping Survey
In 2020, NDA set and monitored 48 traps in 14 counties at high-risk areas, such as state parks and rest areas. Hall and Seward counties had positive collections.
Trees showing signs of an EAB infestation were found in Lancaster County in May 2019. This was confirmed by NDA. This find did not affect the existing quarantine for Cass, Dodge, Douglas, Lancaster, Otoe, Sarpy, Saunders, and Washington counties.
Infested trees were found in Kearney, NE (Buffalo county) in June 2020. The state quarantine will be updated after the end of the survey season in Fall 2020.
Think you have found EAB in Nebraska?
If you are in a non-infested county and think you have located an EAB infestation, please report it to the Nebraska Department of Agriculture at 402-471-2351, the Nebraska Forest Service at 402-472-2944 or your local USDA office at 402-434-2345.
Nebraskans are encouraged to contact a certified arborists to assist with EAB treatment and tree removal. Find local certified arborists through the Nebraska Arborists Association at https://nearborists.org/search-for-an-arborist/.